Wenn es um Handling, Agilität und Leichtigkeit geht, hat Specialized mit dem Tarmac seit jeher die Messlatte für Performance-Rennmaschinen äußerst hoch gesetzt. Denn bereits die Vorgängermodelle waren auf der Straße so gut wie konkurrenzlos. Nun bringen die Kalifornier mit dem SL 7 ein kompromissloses und verdammt leichtes Rennrad auf den Markt. CLEAT hat sich die Asphalt-Rakete angesehen.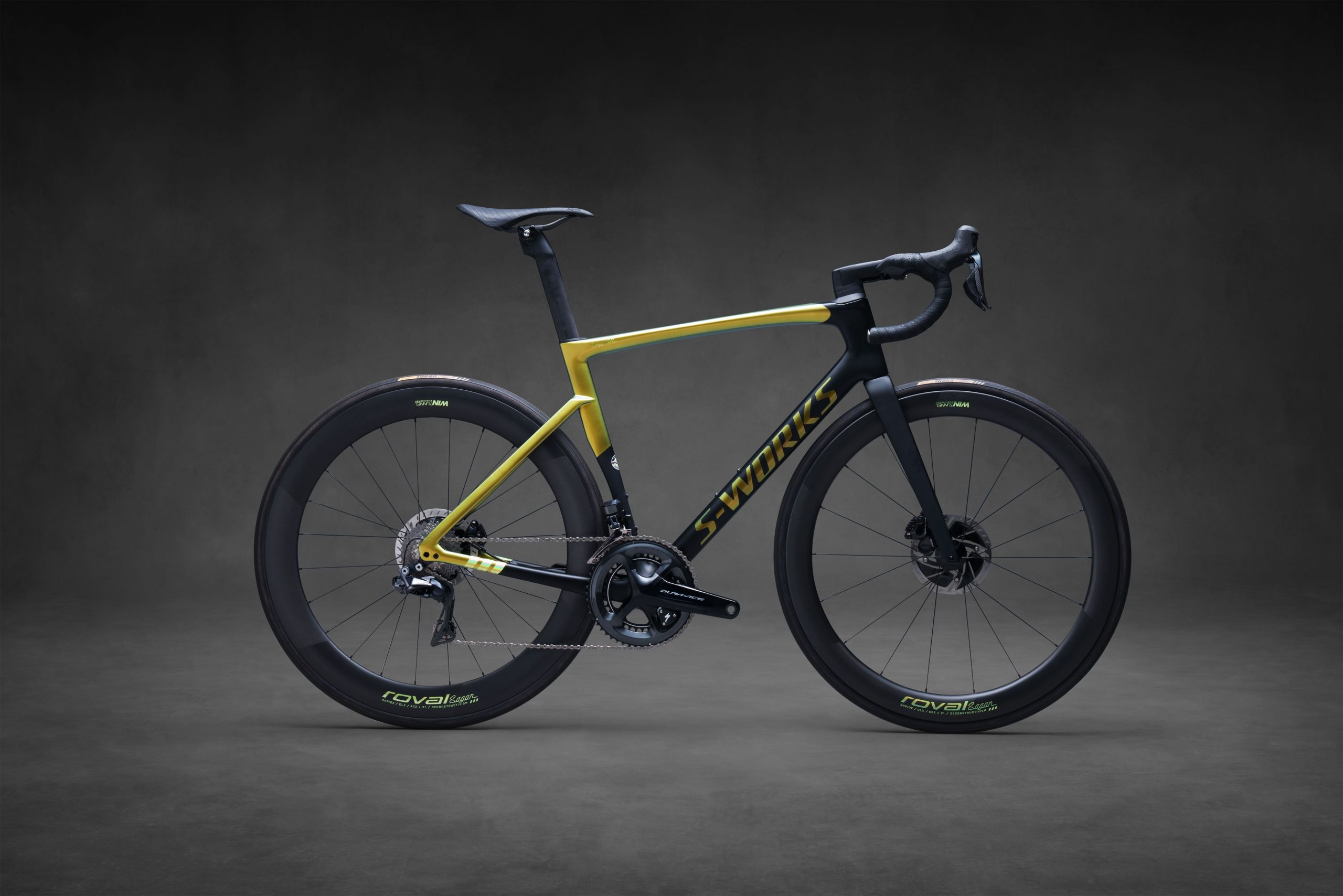 Sagans Hobel: Kann man kaufen, ist aber auf 300 Stück limitiert.
Leicht & steif: Tarmac SL7 FACT 12r Carbon bringt nur 800g Rahmengewicht auf die Waage
Aero Baby! Das Aerofly II Cockpit wiegt 45g weniger und kommt mit voll-integrierter Kabelführung.
Verdammt schnell: Roval Rapide CLX Laufradsatz für optimale Performance.
Aerodynamisch wie das Venge, leicht und agil wie das Tarmac. Mit dem neuen SL 7 möchten Specialized nun genau diese beiden Aspekte vereinen. Aus diesem Grund haben sich die Entwickler bei Specialized mit Profi-Radsportlern wie Ricardo Scheidecker (DECEUNINCK – QUICK-STEP) und Peter Sagen (BORA-HANSGROHE) zusammengesetzt, um das SL 7 den hohen Ansprüchen an eine moderne Rennmaschine gerecht zu werden. Schöne Überraschung vorweg: Die Rahmengeometrie des neuen Tarmac ist geschlechterneutral, es gibt also keine gesonderte Women- oder Men-Edition.
Das neue Tarmac SL 7 bringt weniger als 6,8 Kilo auf die Waage und ist somit startklar im Rahmen der UCI-Richtlinien. Durch die Begrenzung der Rahmenfläche und die strategische Reduzierung der Rahmenwandstärke wiegen die lackierten S-Works Rahmen lediglich 800 Gramm. Auch bei den Komponenten wurde massiv Gewicht eingespart. Um sicherzustellen, dass eine renntaugliche Konstruktion mit weniger als 6,8 kg auch wirklich geliefert werden kann, wurde ein neuer Vorbau entwickelt, der 45 Gramm einspart und durch voll-integrierte Kabelführungen die Aerodynamik an der Front verbessert.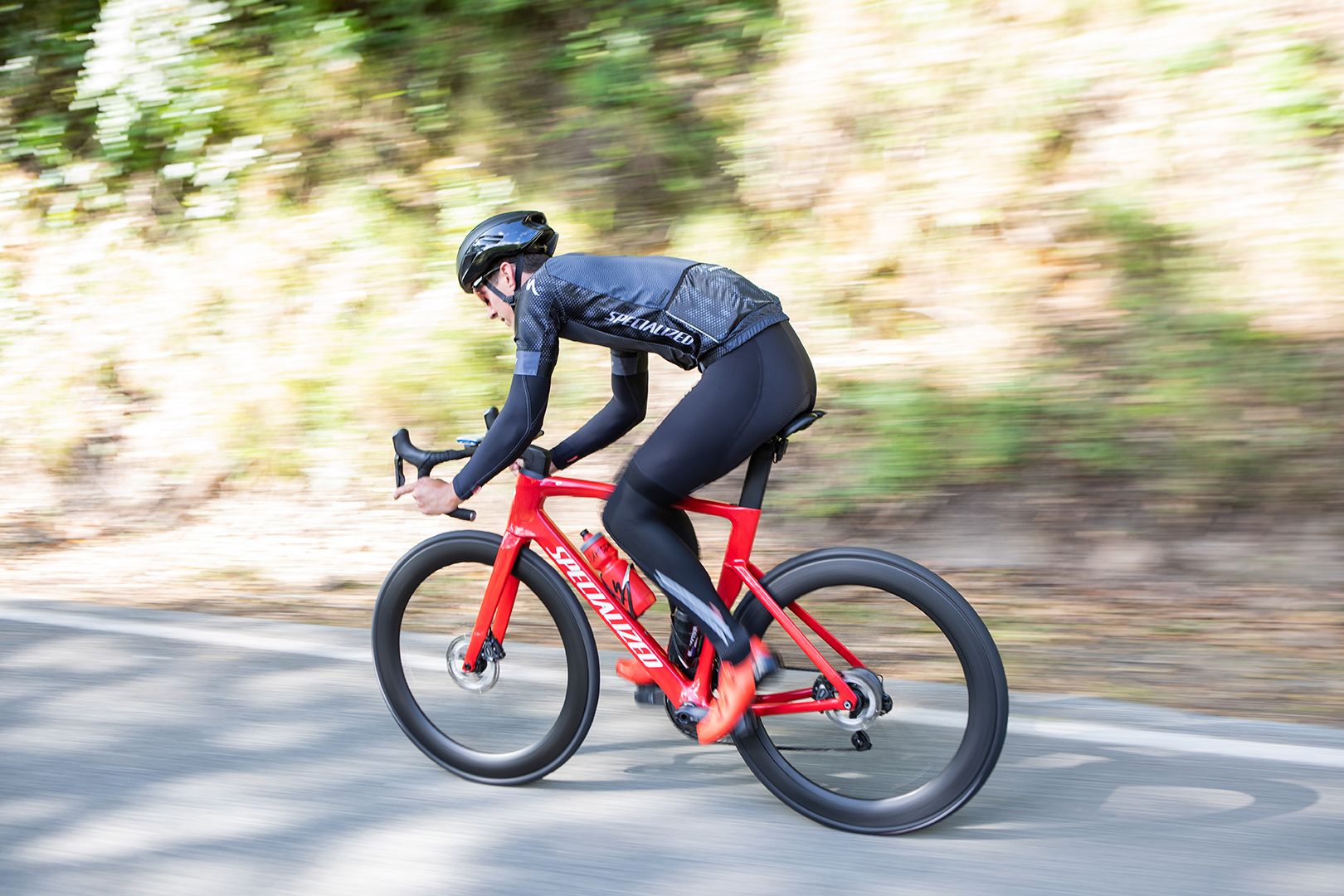 In Punkto Steifigkeit möchte man mit dem neuen Tarmac SL7 das Venge-Niveau mit Tarmac SL6-Konformität und Ansprechverhalten verbinden. Auch hier wurde das von BORA-Hansgrohe und Deceuninck – Quick-Step Athleten zur Validierung der Änderungen genutzt.
Besonders gut gefallen uns die verschiedenen Farbvariationen der Rahmen:
Weil wir das neue Tarmac SL7 bisher noch nicht selbst testen konnten, haben wir für die Bike-Nerds unter euch die wichtigsten Fragen und Antworten in einem englischen Q&A zusammengefasst.
HOW MUCH DOES THE TARMAC SL7 WEIGH?
The S-Works Tarmac SL7 uses our most premium FACT 12r material and layup to achieve a painted weight of 800g in the lightest colorways.The complete out of the box weight of the S-Works Di2 model is 6.7kg in the Carbon/Color Run Silver Green colorway. The Tarmac SL7 Pro and Expert models use our FACT 10r carbon material and layup and have a frame weight of 920g. The complete Tarmac SL7 Pro UDi2 model weighs 7.3kg, and the Tarmac SL7 Expert UDi2 model weighs 7.65kg.
WHAT'S THE DIFFERENCE BETWEEN FACT 12R AND 10R FRAMESETS?
The main differences between these two frame levels is the carbon layup and the materials used. Both frames share the same design and there is no difference to the handling or ride quality between them.
WHEN IT COMES TO AERODYNAMICS, HOW MUCH FASTER IS THE NEW TARMAC SL7 COMPARED TO THE PREVIOUS GENERATION, TARMAC SL6?
The new Tarmac SL7 truly offers no compromises and a big part of the development was all about speed. Aerodynamically, the new Tarmac SL7 saves a rider an average of 45 seconds over a 40km course compared to the Tarmac SL6. These aero gains are the result of improvements to the frameset, integrated cockpit (Aerofly and Tarmac Stem), and Roval Rapide wheels.
DO THE PROFESSIONAL RACE TEAMS USE A SPECIAL VERSION OF THE TARMAC?
The Tarmac has been developed with input from our professional riders over many generations. The S-Works Tarmac SL7 that you can purchase is identical to the bikes raced by pros like Sagan, Alaphilippe, and van der Breggen.
HOW IS STACK AND REACH MEASURED ON THE TARMAC?
Stack and reach are measured to the center of the top of the headtube as is customary. Although these numbers are different than the Tarmac SL6, the fit geometry is identical between Tarmac SL6, Tarmac SL7, and the Venge. Once you compensate for the height of the necessary headset cover on each bike, your stem's lowest position ends up at the same point in space on any of them.
WHAT SIZES DOES THE NEW TARMAC STEM COME IN?
The new Tarmac stem has two angles, -6 and -12 degrees. The -6 degree stem comes in
70/80/90/100/110/120/130mm lengths and is spec'd on bikes as well as available aftermarket.
The -12 degree stem is available in 110/120/130/140mm lengths and is available aftermarket.
WHAT HANDLEBARS IS THE TARMAC STEM COMPATIBLE WITH?
The Tarmac stem has the cleanest cable routing when paired with the S-Works Aerofly II handlebar. It was designed with a traditional 31.8mm clamp to work with most other handlebars on the market as well.
WHAT OFFSET WILL THE NEW TARMAC SEATPOST COME IN?
The S-Works Tarmac SL7 seatpost is available in both 20mm and 0mm offsets and in 300mm and 380mm lengths. Complete bikes and framesets will be spec'd with the 20mm offset model.
WHAT BUILD CONFIGURATIONS IS THE TARMAC SL7 COMPATIBLE WITH?
The Tarmac SL7 is only compatible with hydraulic disc brakes. All models can be built with electronic or mechanical drivetrains.
Three headset covers are included with all Tarmac SL7 models. These headset caps allow for
three different builds, that can be visibly determined by the routing holes:
– Integrated Tarmac Stem with electronic shifting
– Integrated Tarmac Stem with mechanical shifting
– Universal cap for a standard stem and round spacers with either electronic or mechanical
shifting.
INTEGRATED COCKPIT: IS THERE AN INTEGRATED COMPUTER MOUNT?
The new Tarmac Stem offers an integrated computer mount, with compatible mounts for the following brands: Wahoo, Garmin, Polar, Cateye, and Bryton. Additionally, there is a
mount designed around GoPro devices, Specialized Flux Lights, and a new mount designed for Specialized Stix lights.
WHAT'S THE BIGGEST TIRE SIZE YOU CAN INSTALL ON THE TARMAC SL7?
Every Tarmac SL7 comes spec'd with 700x26mm tires, however, the frame was designed with much larger clearance in mind. You can fit tires up to 32c on 21mm rims with 4mm of clearance all around. Of course, this is all still dependent on the exact tire and rim combination as there is quite a bit of variation among tires especially. We suggest that you
check fitment of the tire before you take it out for a ride.